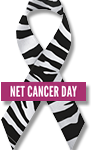 Udruženje pacijenata sa retkim tumorima UPRT obeležilo je u subotu 10. novembra 2012. godine Svetski dan svesti o neuroendokrinim tumorima (WorldwideNet Cancer Awareness Day) organizovanjem skupa kome su prisustvovali pacijenti oboleli od retkih tumora (u koje spadaju i NET) i lekari koji se bave dijagnostikovanjem i lečenjem retkih tumora.
Ovaj dan je prvi put obeležen ove godine i u Srbiji.
Pozivu organizatora da učestvuju u stručnom delu rada Skupa odazvali su se:
– Prof. dr Svetozar Damjanović, direktor Klinike za endokrinologiju, dijabetes i bolesti metabolizma, istovremeno i načelnik Centra za endokrine    tumore i nasledne kancerske sindrome KCS,
– Prof. dr Vladimr Obradović, direktor Instituta za nuklearnu medicinu KCS,
– Prof. dr Vera Artiko, šef Katedre za nuklearnu medicinu Medicinskog fakulteta u Beogradu i
– Prof. dr Milovan Matović, direktor Klinike za nuklearnu medicinu KC Kragujevac.
Odziv pacijenata bio je izuzetno dobar imajući u vidu da je Udruženje nedavno osnovano i da do velikog broja potencijalnih članova rasutih po celoj Srbiji informacija o postojanju UPRT, njegovim ciljevima i načinima delovanja, tek treba da stigne.
Bilo ih je iz Beograda i šire okoline ali je veći deo doputovao iz udaljenijih mesta Srbije: Kruševca, Niša, Kraljeva, Kragujevca, Valjeva, Kule i Bačkog Petrovca. Svi oni su doputovali o svom trošku i u radu skupa učestvovali veoma aktivno. Ovo ukazuje da su oboleli od retkih tumora uvideli da jedino kroz Udruženje mogu uspostaviti ravnopravan partnerski odnos pri nastupu pred zdravstvenim vlastima i stručnom javnošću. Šteta je što ih iz Vojvodine nije više došlo.
Nažalost, i pored obećanja da će Skupu prisustvovati i predstavnik Ministarstva zdravlja RS, to se nije dogodilo tako da su lekari i pacijenti ostali uskraćeni za sagovornika od strane vlasti.
Skup je otvorila zastupnica UPRT Gorjana Ajzinberg i u kratkim crtama objasnila šta je UPRT, kada je i zašto osnovano, koji su mu ciljevi i koji poslovi su, u međuvremenu, obavljeni.
Stručni deo rada Skupa započeo je prof. dr Svetozar Damjanović izlaganjem o tome šta su retki tumori, na kojim organima se mogu pojaviti, koliko brzo napreduju, koliki je broj obolelih na 100.000 ljudi, koliko se novih pacijenata godišnje registruje u Srbiji, i koliko ih približno sada ima.
Za prisutne su od posebnog značaja bile informacije o dijagnostičkim i terapijskim problemima sa kojima se lekari i bolesnici svakodnevno u praksi suočavaju.
Zajednički je zaključeno da je u cilju dobrobiti pacijenata nužno obezbediti redovno snabdevanje Kliničkih centara preparatima za dijagnostikovanje, lokalizaciju, praćenje i lečenje retkih tumora. Da ove nabavke ne smeju biti ad hoc kao do sada, što je obolele od retkih tumora dovodilo u neravnopravan položaj u odnosu na ostale pacijente. Oboleli od retkih tumora, kao i njihovi lekari, s punim pravom očekuju da im se omogući blagovremeno sprovođenje savremenih dijagnostičkih postupaka i da im se, na osnovu dobijenih rezulatata, u pravom trenutku obezbedi primena takođe savremenih terapija. Dakle, očekuju da im se omoguće sve one dijagnostičko–terapijske opcije koje su date i pacijentima obolelim od drugih vrsta karcinoma.
Poseban problem pri lečenju pacijenata sa retkim tumorima predstavlja nemogućnost primene onih lekova i terapijskih postupaka koje se dugo godina koriste za lečenje drugih malignih obolenja, koji pritom nisu skupi a koji, pokazalo se u praksi, mogu biti efikasni i za lečenje retkih tumora. Lekari ih sada ne smeju primeniti jer pri registraciji lekova nije navedeno da se mogu koristiti i za lečenje retkih tumora. Na ovaj način, zakonska ograničenja i manjkavosti propisa uskraćuju pravo svim pacijentima na ravnopravnost pri lečenju. Lekar koji bi po svojoj profesionalnoj savesti ipak primenio ovakav lek, koristan za pacijenta, mogao bi doći pod udar Zakona i biti kažnjen.
Takođe je zaključeno da svaka terapiska opcija treba da dobije svoje mesto u terapijskom hijerarhijskom nizu i da se, tokom lečenja, ne sme preskočiti ni jedna terapijska metoda koja omogućuje da se ljudima produži život. Ovo konkretno znači da se pri lečenju retkih tumora omogući veća primena hemioterapije i da se ovakav vid lečenja ne preskače pre nego što se primeni radionuklidna terapija.
Potom su profesori V. Obradović, V. Artiko i M. Matović izlaganje usmerili na metode nuklearne medicine koji imaju veoma važnu ulogu u dijagnostici i lečenju neuroendokrinih tumora. Citiramo tekst prof. dr V.Artiko:
"Za dijagnostiku se koriste standardne SPECT i novije PET metode. Trenutno se u Centru za nuklearnu medicinu KCS za otkrivanje i praćenje neuroendokrinih tumora sa ekspresijom somatostatinskih receptora koristi SPECT ispitivanje primenom dva radioaktivna preparata (radiofarmaka) obeležena gama emiterima–99mTc i 111In (99mTc-tektrotyd i 111In-pentetreotid). Pomenute radiofarmake iz finansijskih razloga ne dobijamo u dovoljnoj količini zbog čega se povremeno na ispitivanje mora nešto duže čekati.
Međutim, s obzirom da se u sastavu Centra za nuklearnu medicinu KCS nalazi nacionalni PET centar, sa odličnom opremom i iskusnim kadrovma, veliki korak bi pretstavljalo uvođenje pozitronske emisione tomografije (PET) za dijagnostiku ovih tumora primenom jednog od radiofarmaka obeleženih pozitronskim emiterom 68Ga (68Ga-DOTATOC, 68Ga-DOTATATE). Time bi se značajno rasteretila i uravnotežila i primena standardne SPEKT dijagnostike, koja bi se odnosila samo na pacijente kod kojih je predviđena specifična radionuklidna terapija. Tako bi se, uz korišćenje manje sredstava, povećao broj ispitivanja kod ovih bolesnika, skratilo vreme čekanja na ispitivanje, nalazi interpretirali preciznije i pouzdanije i povećala preciznost izbora bolesnika za radionuklidnu terapiju.
Da bi mogla da se uvede PET dijagnostika neuroendokrinih tumora, neophodna je redovna nabavka tzv. 68Ge/68Ga generatora. Jedan generator se koristi do godinu dana i za to vreme se može ispitati oko 300 bolesnika. Međutim, neophodno je da se postojeća radiohemijska laboratorja Centra prethodno opremi dodatnom laboratorijskom opremom za obeležavanje peptida i kontrolu kvaliteta navedenih radiofarmaka obeleženih 68Ga. Prema raspoloživim podacima, neophodna investicija za nabavku pomenute laboratorijske opreme iznosi do  100.000 evra. Cena samog generatora, koji bi se potom nabavljao jedan put godišnje, iznosi 30-50.000 evra."
Jedna od prisutnih pacijentkinja nagovestila je mogućnost novčane donacije iz inostranstva dovoljne da se započne opremanje ove laboratorije.
Konstatovano je i da su postojeći kapaciteti za primenu radionuklidne terapije koja je podesna kod pacijenata sa inoperabilnim tumorima i metastatskom bolesti nedovoljne. U KC Kragujevac trenutno mogu lečiti radionuklidnom terapijom samo vikendom po dva pacijenta. Potrebe su znatno veće pa je neophodno što pre završiti izgradnju bloka za radionuklidnu terapiju neuroendokrinih tumora u sklopu Klinike za endokrinologiju i bolesti metabolizma u Beogradu.
Na kraju je zaključeno da u okviru UPRT treba formirati uže radno telo koje bi, uz pomoć lekara, definisalo stvarne potrebe pacijenata obolelih od retkih tumora, artikulisalo probleme, formulisalo ih i, kao zahtev u pisanoj formi, uputilo Ministarstvu zdravlja.
Skup je održan u prijatnom ambijentu Galerije jevrejske opštine u Beogradu. Dijalog između lekara i pacijenata vođen je uz puno međusobno razumevanje i uvažavanje.
Radni deo trajao je oko dva sata. Potom je nastavljeno neformalno druženje u prijateljskom tonu uz laku zakusku.
Korišćenje sale omogućila nam je Jevrejska opština Beograd bez ikakve nadoknade.
Tehnička pomoć (ozvučenje, obezbeđenje i servirka) su svoje usluge obavili maksimalno profesionalno uz minimalnu novčanu nadoknadu.
Svima im se od srca zahvaljujemo.